Third-Century Vision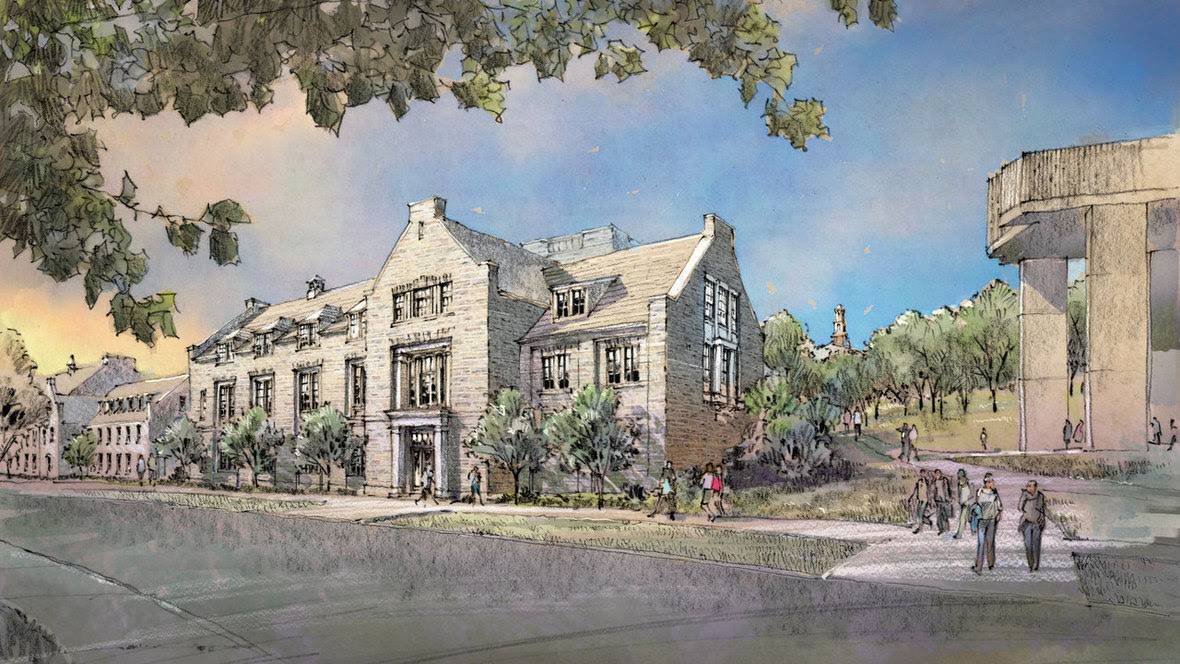 The Middle Campus Initiative for Arts, Creativity, and Innovation is a substantial rethinking of the University's overall educational experience and the campus itself. With a thoughtful redesign of new and existing spaces, the Middle Campus neighborhood will become the gateway to the liberal arts at Colgate. It brings together a host of departments, programs, and activities that all touch on creative processes and student expression.
The Middle Campus Initiative is a major priority of Colgate's Third-Century Plan, which promotes collaboration across the University and pushes pedagogical and research frontiers through new curricular and co-curricular initiatives. By bringing seemingly disparate fields of study into shared physical spaces, the "power of proximity" will help create opportunities for collaboration and knowledge sharing, which will benefit all aspects of the Colgate experience.
Spaces for Creation and Innovation
Through new building projects and facility renovations, the Middle Campus neighborhood will be transformed into a hub for creativity. The redesigned Middle Campus will dismantle barriers between the arts, sciences, and technology while simultaneously addressing Colgate's long-standing need for arts facilities.
The Benton Center for the Arts, Creativity, and Technology
A hub for interdepartmental collaboration and experimentation and the anchor of a two-building, 36,800-square-foot complex on Colgate's Middle Campus to house computer science, film and media studies, theater, and dance with flexible performance and teaching spaces, computer and media labs, studios, offices, and gathering spaces for faculty and students. 
Experimental exhibition and performance space
Fabrication lab / maker space
Media archeology lab
Digital music lab / studio
Computer labs
Faculty research and student studio spaces
Project rooms
Flexible classroom space
The Dana Center for Curricular and Co-Curricular Innovation and Design
An architecturally significant building, Dana was designed by famed architect Paul Rudolph and will be restored to its original design vision. The renovated Dana Center will become home to design-related courses, Thought Into Action, student maker and practice spaces, the offices of the Division of University Studies, and a renovated Brehmer Theater. 
Studios for architecture, scene, and costume design
Student entrepreneurship spaces, maker spaces, and practice spaces
Combined social space and laboratory for student-driven projects
Thought Into Action innovation hub
Flexible collaboration space
Individual rooms featuring similar flexible furniture and technology for meetings and classes
Adjacent maker-spaces that allow for fast prototyping, design, and experimentation
Colgate University Collections
This new facility will be a dynamic building for object-based teaching and learning (bringing students into direct contact with objects from the Picker and Longyear collections, Special Collections, and University Archives), laboratories, exhibition spaces, open storage workrooms, teaching spaces, and a lecture hall. With the creation of a storage for art, objects, and artifacts, students and faculty will be able to access the University's incredible collections more easily.