As the daughter of a Trinidadian father and a mother descended from American slaves and a slave-holder, Emily Bernard embodies some of the contradictions she explores in this riveting collection of personal writing.
In twelve deeply personal connected essays, Emily Bernard describes what it was like to grow up black in the South with a family name inherited from a white man, to survive a random stabbing at a New Haven coffee shop, to marry a white man from the North and bring him home to her family, to adopt two children from Ethiopia, and to live and teach in a mostly white New England college town.
Each of these essays sets out to discover a new way of talking about race and telling the truth as Emily Bernard has lived it.
A scholar of the Harlem Renaissance, Ms. Bernard turns naturally to literature—especially Zora Neale Hurston's Their Eyes Were Watching God—for insight about her own life. She brings intelligence and wit to bear on questions of fear, rage, faith, family, friendship, the search for home, and the perpetual self-surveillance practiced by women of color in this country.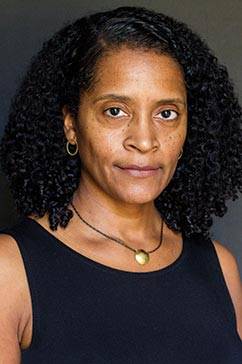 Born in Nashville, Tennessee, Emily Bernard earned a PhD in American Studies from Yale University. She has been the recipient of grants from the Ford Foundation and the National Endowment for the Arts, as well as a W.E.B. DuBois Fellowship at Harvard University. Her essays have appeared in The American Scholar and The Best American Essays. In addition to Black Is the Body, she has published books on figures in the Harlem Renaissance as well as an edited collection about interracial friendship. Prof. Bernard is the Julian Lindsay Green & Gold Professor of English at the University of Vermont.
Podcasts
Listen to Jennifer Brice, associate professor of English, in conversation with the author as well as her colleagues. 
Tracey E. Hucks is currently the Provost and Dean of the Faculty at Colgate University and the James A. Storing Professor of Religion and Africana and Latin American Studies.  From 2014-2017, she was the James D. Vail III Professor and Chair of Africana Studies at Davidson College. She received her Ph.D. in the study of religion at Harvard University with a specialty in the religions of the Americas. She is the former Chair of the Department of Religion at Haverford College and the author of several publications on the history of Africana religious cultures in North America and the Caribbean. Her book, Yoruba Traditions and African American Religious Nationalism examines the history of Yorùbá religious practice among African Americans in the United States, beginning in Harlem, New York. Her next book is forthcoming with Duke University Press, entitled Obeah, Orisa, and Religious Identity: Between and Beyond Colonial Imaginations and is co-authored with Colgate alumna, Dianne Stewart '90. Hucks' research travels on Africana religious traditions have led her to Nigeria, Cuba, Jamaica, Trinidad, Brazil, the Dominican Republic, England, France, and throughout the United States.
Kezia Page is an associate professor of English and Africana and Latin American Studies at Colgate University. She studies and teaches Caribbean Literature and Culture and her work has focused on Caribbean migrant and diaspora literature and, more recently, on surveillance in Jamaican art, literature and culture. Page is currently the director of the Africana & Latin American Studies Program.
Carina Haden '21 is a senior English major and Art & Art History minor from Whitesboro, New York. This is her second year working with Professor Brice on the Living Writers program. Her favorite read from the 2019 list was How to Write an Autobiographical Novel by Alexander Chee, and her favorite author visit was Justin Torres for his book, We the Animals.
Kathrine Roell '21 is a senior from Manchester, New Hampshire, studying both English Literature and French. This is her second year as a research assistant with Living Writers, and she is excited to be engaging with such an exciting group of texts and authors. This year, she is most looking forward to reading  Charles Yu's novel Interior Chinatown. Last year her favorite Living Writers' work was John Banville's The Sea.
Tell us what you think about Black Is the Body
Follow the discussion on Twitter @ColgateLW using the hashtags #ColgateLivingWriters and #BlackIstheBody
Enrich Your Reading Experience
My racial sense of self is made of rage and faith, pain and joy; it's a sensory cocktail I remember experiencing every time I heard my church aunts and uncles tell the tales—black tales—about how they made it over and broke through.
Living Writers is put on by the Department of English at Colgate University with generous support from the Olive B. O'Connor Fund as well as the President and Provost/Dean of the Faculty. This event is co-sponsored by the Program in Africana & Latin American Studies.