Colgate in Focus: A Diversity Open House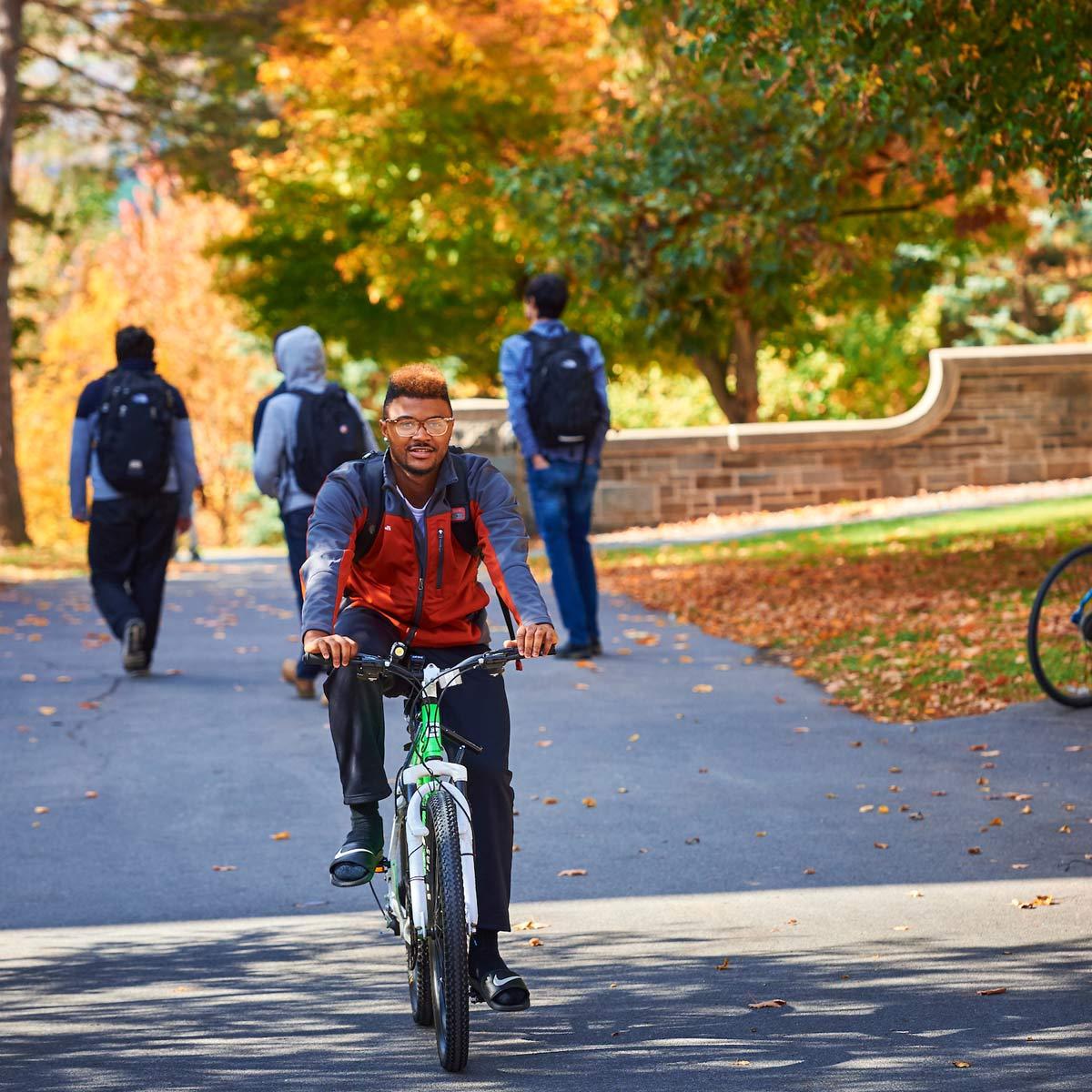 Colgate in Focus provides students with a greater understanding of the Colgate experience by allowing them to meet current students, engage with faculty members, and learn more about the diversity of Colgate's student organizations. The program is geared toward rising high school seniors who identify as low-income, first-generation, or other traditionally underrepresented backgrounds who have overcome unique personal or structural challenges in their journey to pursue post-secondary education.
Traditionally, Colgate in Focus is held as an on-campus program including opportunities to attend a class, tour the campus, and stay overnight in a residence hall. In response to COVID-19, the 2020 edition of Colgate in Focus will adopt an online format, offering the same in-depth look into the Colgate experience through a series of virtual events and webinars. 
The most impactful part of my experience was when President Casey and Dean Hucks joined us for dinner. It shows how connected and involved they are with students on campus. I genuinely experienced a day in the life of a student at Colgate in Focus.
Upcoming Colgate in Focus Sessions
Colgate in Focus 2020 will begin with a summer series starting in July. The series will discuss different aspects of Colgate with current students and Colgate community members. Join us for the kickoff on July 7 for a brief discussion of the Colgate experience.
Time: 7:00 p.m. ET
Small town living: Hamilton, NY, home of Colgate University, has many spaces and activities to offer our students. Become familiar with the surrounding village of Hamilton by joining Colgate students as they share their favorite places and things to do in town.
Time: 7:00 p.m. ET
This session will introduce students to the various activities and traditions Colgate has to offer. Hear about current students' experiences with different annual events such as dancefest, athletic games, homecoming and guest speaker lectures. Learn about what Colgate students do outside the classroom, in their free time!
Time: 7:00 p.m. ET
Prospective students will have the opportunity to learn about the different organizations and micro-communities available at Colgate. Current Colgate students will talk about what they do outside of the classroom, in their downtime and the extracurriculars they are involved in.
Time: 7:00 p.m. ET
Registration coming soon.
What is the liberal arts? It is a question that is asked by many students and families. Hear how Colgate students, faculty, and staff members define the liberal arts and learn about the different ways a liberal arts education takes shape on and off campus.
Time: 7:00 p.m. ET
Registration coming soon.
Colgate provides students with different support systems to ensure success and wellbeing. Learn about campus resources such as the Counseling Center/Wellness Center, Center for Learning and Teaching, and Office of LGBTQ+ Initiatives.
Time: 7:00 p.m. ET
Registration coming soon.
Get your questions answered about what it's like to be a student of color at Colgate! Current students will share their experiences as members of Colgate's diverse community and highlight their transition from high school to college.
Time: 7:00 p.m. ET
Registration coming soon.
Do you have questions about what comes after a liberal arts education? Colgate alumni will share how their liberal arts education contributed to their career success. Also, hear from a Career Services representative about the support they provide to Colgate students. 
Time: 7:00 p.m. ET
Registration coming soon.